Michael A. Costa
Do you have insurance? Why did you choose WHC as your health provider?
Yes, we have insurance. My wife made sure our family would be taken care of after she passed. When she was with us, she took care of the kids' doctor and dentist appointments. She tried other places but found Waimānalo Health Center to be the best place for us. She had cancer and passed away in 2012. Now that I'm on my own, it feels good to continue what she started and the kids are comfortable here. But let's be honest, with eight kids, it's hard. She did plenty. I just never realized how much she did until she wasn't there anymore.
How long have you been a patient at WHC?
I was born and raised in Waimānalo. I've been seeing the doctors at the center since I was a kid. When we got pregnant, it was a no-brainer to come to the health center. She had regular appointments with the Women, Infants and Children (WIC) program and we're still here.
What services have you used at WHC?
We have regular check-ups with doctors in the Family Medicine Clinic but the center's Behavioral Health Clinic has made the biggest impact. We have eight children, four of them are adopted. I love them all the same and I can't imagine life without the big `ohana but with a full-time construction job, raising a family is a daily challenge. Especially my girls. I want to give them the best and raise them to be smart, strong, caring women like their mom was but I have no idea how to do that. I cannot pretend to know what they're going through. Even with my boys, sometimes we just don't see eye-to-eye. I remember what it's like to be a kid. A lot of what your parents tell you sound like complaints. And that's where doctors in WHC's Behavioral Health Clinic helps me. They're my buffer and in some ways like a translator. Behavioral health helps me understand my kids and helps my kids understand my point-of-view.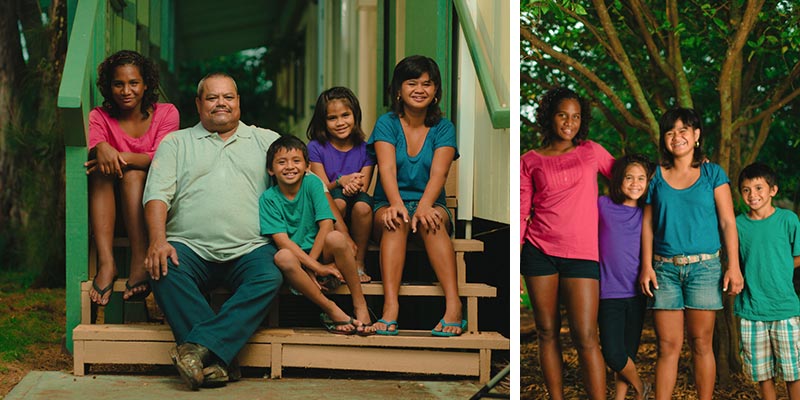 Would you recommend WHC to your friends/family? Why?
Yes. Eight kids, two kids or no kids, every day is a struggle. I work hard for my family and to pay for our health insurance so why not accept the benefits of being insured? My dad helps around the house and with the kids, and I'm grateful to have him, but the doctors at Waimānalo Health Center help the kids in ways he or I cannot.
What's the best thing about WHC?
The people. They're more friendly, more local. When my wife was sick, we went to quite a few different places. I tried everything to get her the best care possible so we went all over. I know what it's like out there but here, it feels like the doctors really care. WHC is smaller than most hospitals so maybe the doctors have more time to be compassionate. They're patient and thoughtful with us. It makes a difference. The second best thing is that it's close. It's convenient and always get parking!
How has WHC made a difference in your life?
It's made a big difference. I'm a single parent. They help me with the issues I go through. And when the kids get sick, we know where to go to get better. The doctors in family medicine work with the doctors in behavioral health, who work with dietitians and social workers and care coordinators. Everyone's in the loop about my family's health. They got our back.
Why is WHC vital to the community?
This is where Waimānalo comes for healthcare. I see somebody I know every time I come. There are so many services and programs. Some that even I don't know about yet! Like I said, we all need help every now and then. No shame!